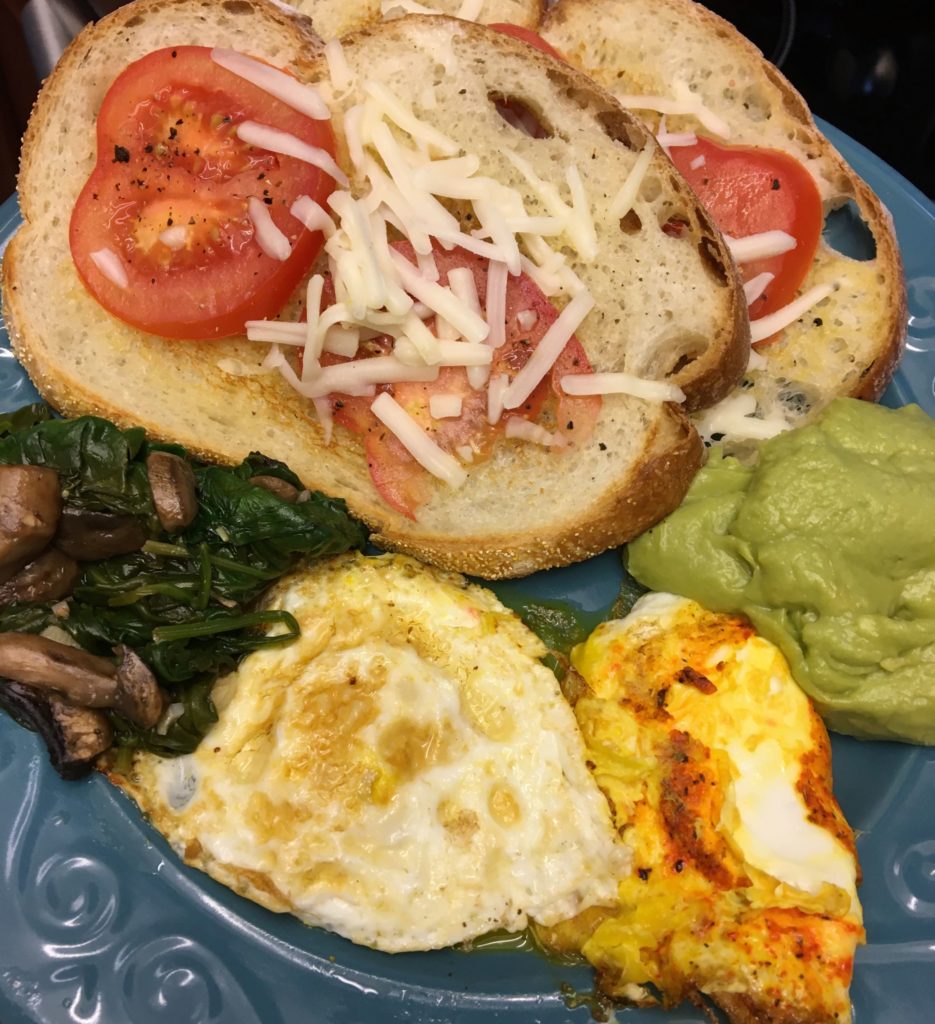 Big Protein Breakfast
Prep Time: 30 mins
Cook Time: 30 mins
Serving: 5
Ingredients:
Favorite Bread
Vine Tomatoes (Organic)
Vegan Butter
Shredded vegan Cheese (any kind)
Guacamole (mild) or Avocado
Baby Spinach (Organic)
Baby Bella Mushrooms
Fresh organic garlic
lemon
Organic Eggs (optional)
Sazón
Salt
Pepper
Extra Virgin Olive Oil (organic)
Vegetable Oil
Directions:
*NOTE: There are several steps to this dish so do each step as it comes.
Sautéed Spinach:
Wash spinach I used 1 lb. of baby spinach, mince two garlic cloves, and wash ½ lb. of baby Bella mushrooms.
Put nonstick pan to medium heat and add 1 tbsp. of olive oil.
Add garlic, cook for a min., then add mushrooms and allow to sauté with the garlic for another min. Then, add spinach.
Sauté until spinach wilts, then add salt, pepper to taste.
Squeeze half a lemon in the pan and mix.
Set aside in a separate dish and cover.
Tomato Time:
Wash tomatoes and slice thin.
Take two slices of bread and put vegan butter on both sides of bread. Then, place bread in the same nonstick pan and allow to toast. (you may need to lower the stove so you don't burn bread) Once, the one side of the bread has been toasted, flip to the other side, while this is toasting add two slices or more tomatoes on top with and layer it with cheese and add salt and pepper.
Once cheese has melted or the bottom of the bread is toasted, take it off and set to the side.
Over Easy Eggs:
In the same nonstick pan add 1tsp. vegetable oil and bring heat back up to medium and crack 2 egg over pan and cook.
Sprinkle Sazón to eggs on top and cook until top is cooked, and the yellow is still runny.
Take eggs out with a spatula and set aside
Repeat each step for each person you want to serve, except for sautéed spinach.
Add all ingredients onto a plate and enjoy! MANGIA!!