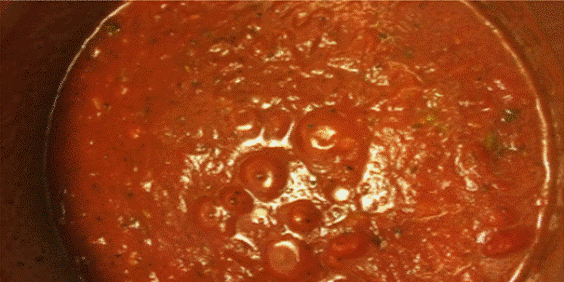 Cook time: 2 to 3 hours
Servings: 6 -8
Authentic Italian Pasta Sauce with Organic ingredients
Ingredients
1 can 28 oz. crushed tomatoes (organic)
2 cans 14.5 oz. diced tomatoes (seasoned with basil, garlic and oregano)(organic)
1 tbsp. tomato paste (organic)
1/4 cup extra virgin olive oil (organic)
1 medium onion, diced (organic)
8 cloves of fresh garlic (or more to taste), finely minced (organic)
1/3 cup fresh basil leaves, finely chopped (organic)
1 sprig of fresh thyme leaves (or 1/2 tsp dried) (organic)
1 sprig of fresh oregano (or 1 teaspoon dried oregano) (organic)
2 bay leaves (remove when done) (organic)
2 sprigs of parsley (or 1 tsp dried) (organic)
1 teaspoon sea salt
1 carrot (1/2 should be grated and added to sauce, the other half should be added at the end of cooking and then removed) (organic)
Instructions
Pour the olive oil into a large stockpot over medium heat.
Add diced onions, garlic and grated carrots.
Sauté for 6-8 minutes or until onions are translucent and tender.
Add tomatoes, chopped basil leaves, oregano, thyme bay leaves, parsley and sea salt.
Add carrot piece for the last 30 minutes to absorb acidity.
Remove sprigs of herbs and piece of carrot.
Use fresh or store in the fridge up to 1 week, or can it according to your canner's instructions for tomato products.
Courses Sauce
Cuisine Italian
www.michellemaggi.com