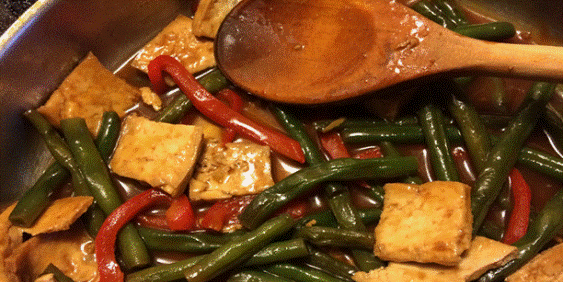 Cook time: 45 mins
Total time: 1 hour
Serves: 2-3.
Ingredients
STIR FRY
1 14-ounce (396 g) package firm or extra-firm tofu (organic)
2 cups (200 g) roughly chopped green beans (organic)
1 cup (128 g) diced carrots or red pepper (organic)
2 Tbsp (30 ml) toasted sesame oil for sautéing (or sub peanut or coconut)
SAUCE
1/4 cup (60 ml) low-sodium soy sauce (make sure it's gluten-free if gluten-free)
1 Tbsp (6 g) fresh grated ginger (organic)
2 Tbsp (27 g) organic brown sugar (organic)
1 Tbsp (15 ml) agave or maple syrup (or honey if not vegan) (organic)
1 Tbsp (7 g) cornstarch
Instructions
*First dry the tofu, then bake it at 400° until browns and create a tougher texture, and then let it set out for about 10 mins, this will help it dry more. This gives it a "meat-like" texture, which makes it easier to soak up delicious sauces!! YUMM! *
Preheat oven to 400° and begin drying your tofu. Drain, remove from the package and place between two thick towels, wrap tight. Occasionally press down on the tofu, each side, to express liquid – change towels if needed, if they get too wet.
Arrange tofu on a lightly greased or parchment-lined baking sheet to prevent sticking and bake for about of 20-35 minutes, flipping once halfway through to ensure even cooking. This will dry out the tofu and help give it a more meat-like texture. If you want a tougher texture, cook for full 35 mins. If cut too thin, the tofu will become too hard, so be aware of not to cut cubes too thin.
Once it's golden brown and a bit tough and firm, remove it from the oven, set aside.
Start prepping your vegetables
If serving over rice, start the rice. (if you desire to eat it with Chinese fried rice go to my website for recipe)
In a small mixing bowl, whisk together all the sauce ingredients – set aside.
In a large skillet over medium-high heat, add sesame oil and even it out in the pan. Then add veggies and toss to coat. Cook for 5-7 minutes, stirring often. When the vegetables become tender (not soft), add the sauce and stir. It should bubble and thicken. Then add the tofu and stir to coat.
Cook the mixture for 3-5 minutes, stirring often. Remove from heat. Serve. MANGA!!
Notes
Recipe type: Entrée
Cuisine: Vegan, Gluten-Free
Nutrition Information
Serving size: 1/2 recipe Calories: 371 Fat: 19g Saturated fat: 3g Carbohydrates: 38g Sugar: 23gSodium: 1500mg Fiber: 6g Protein: 16g
www.michellemaggi.com